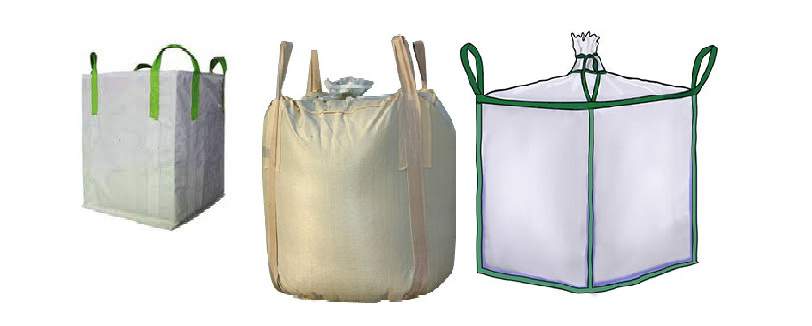 Demand of packaging is growing day by day from various industries like food industries, chemical, agricultural and pharma industries. For bulk packaging you need a bulk storage bag to store and transport those bulk products easily. Now need of packaging is different depend upon products volume and its shape. Today different types of jumbo bags are made available to customers as per their product volume like U-Panel, Circular,-Panel jumbo bags.
U-Panel Jumbo Bag
U-panel bag comes in square shape which hold more volume of products easily. Here U-shape bag is constructed with separate fabric pieces however one piece is used to form two sides with bottom of bag and other piece of fabric stitched to obtain U-shape body of bag. U-panel bag comes in square shape where larger volume of product can filled and fits on pallet in square shape which avoid bulging. Safety load factor is 5:1 or 6:1. This bags are standard has high demand to transport heavy dense materials.
Circular Jumbo Bag
Circular bag are constructed with tubular fabric allows stitching form all sides for top and bottom. It's get look form as cylindrical can handle larger volume of products. It is simply constructed with single piece of fabric which gets cylindrical form. Circular shape bags are used to store fine materials like wheat or flour. This bag can carry material up to 3000lb.
4-Panel Jumbo Bag
4-Panel Jumbo Bag comes in square shape form constructed with four individual pieces of fabric. it hold large volume of products show square shape form like u-panel bags but its hold better square shape rather than u-panel bags. 4-panel bags required more stitching to keep bag together than other jumbo bags. Solid form products required 4-panel bags which store, transport easily. SWL is 5:1 or 6:1.
Brain Chamber Polysacks are leading manufacturers and exporters of u-panel jumbo bag, circular jumbo bag and 4-panel jumbo bag as per product packaging needs of clients.
Mail your Requirement on - enquiry@brainchamber.net