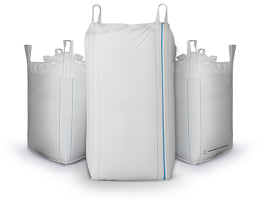 Today in industrial sectors we know for carry bulk materials or goods from one place to another is critical. FIBC/Jumbo Bag is easy, cost effective and smartest option for transporting and handling heavy dry goods. An big bags are large enough that are woven and design for handling bulk quantity materials. Here sacks are made from woven fabric and are made available in custom design so that it can carry heavy weight up to 4000lbs. Over last couple of years it has been found increase in usage of FIBC.
Manufacturers of Custom FIBC – Brain Chamber Polysacks
We Brain Chamber Polysacks are unique manufacturers and exporters of Jumbo Bags based at Appachiwadi Karnataka, India. We have clients spread across globally who rely on our custom FIBC used for bulk packaging. Our customized product is not just easy to handle but it is recyclable too. We are specialize in providing custom big bags for companies which are tough and good quality. We not only cater to your need but we look that our product will deliver at right time to you. Our bulk bags are economical option used in agriculture sector, chemical industries, pharmacy industries, food industries and many more.
We are specialize in manufacturing of quality polymer products. We offer wide verity of products to our clients which ensure hygiene standards and meet there specified requirements of packaging. Our monthly production is 200 – 220 metric tons which we export globally and various parts of India. Thus on brain chamber you can rely on us to make sure that all export parameters and guidelines are met and our quality FIBC bulk bags are transported to your desired destination in timely and efficiently.
We meet industry standards, our FIBC never fails to meet industry standards require for export. Its capacity range always range from 500kg to 2000kg and its match every requirements of clients.
Feel free to contact Brain Chamber Polysacks to get very reasonable quote of high quality jumbo bag.
Tags : Big Bag, Big Bag for Packaging
For more Information click on : http://jumbobagsexporters.com/jumbo-bag-products.html
or Mail your Requirement on - enquiry@brainchamber.net