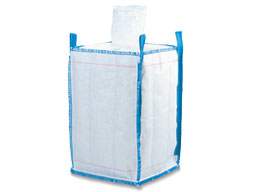 Jumbo Bag is bag use for storage and transport dry products in bulk quantity. It is light in weight, easy to carry and water resistant in nature. Product like powder, flakes and granules are stored and transport by big bags easily. For liquid or dangerous inflammable product UN certified bags are used for transportation. Capacity carrying of material is from 500 kg to 1 tone as per requirement. Jumbo bags are manufactured by UV stabilized woven fabric. It comes in single loop, double loop or four loops with filling and discharging sprout option. Big bag keeps material moisture free.
Brain Chamber Polysacks involves in manufacturing, exporting and supplying of Jumbo Bags in India and in global market. For manufacturing bag we use best quality of raw materials with latest technologies of advance machineries. We have large production capacity by which bulk quantity of jumbo bags can be provided to client as per there packaging requirements.
Dimension of Bag:-
Base - 90x90 cms ,95x95 cms, 100x100cms
Height - 90 cms, 120 cms, 140 cms, 160 cms
Industries we serve :
1. Cement Industry
2. Chemical Industry
3. Sugar Industry
4. Food Industry
5. Building Constructions
Feel free to contact Brain Chamber Polysacks to get very reasonable quote of high quality jumbo bag.
Tags : Big Bag, Big Bag for Packaging
For more Information click on : http://jumbobagsexporters.com/jumbo-bag-products.html
or Mail your Requirement on - enquiry@brainchamber.net