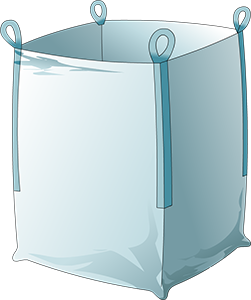 Varieties of goods are transported and store easily by Bulk Bags or FIBC. These jumbo bags are versatile and durable for storing and transporting goods like soil, food grade products, sand, chemicals and hazardous goods in bulk quantity. Here some hazardous products or chemicals need extra protection, care while transporting and storing. Those hazardous products need UN certified FIBC.
UN Certified Bulk Bags
UN certified Bulk Bag is united nations certified FIBC designed to store and transport dangerous materials. These bags are manufactured by extremely durable materials also tested and certified which prevents materials from attack by internal or external factors which can cause fire or explosion which can make environmental damage.
Brain Chamber Polysacks is unique manufacturer of Un certified bulk bags. We offer customize jumbo bags for various goods transportation including UN certified bulk bags.
How UN certified bags are different than Other FIBC ?
A material which is hazardous or risky for transportation cannot carried by regular bulk bags. UN certified bulk bags are designed for storing and transportation of dangerous goods. Here Un bags are passed out various standard specification listed by united nation regarding transportation of dangerous materials. it makes sure that hazardous materials can be transported easily and safely.
UN bags includes : :
1. Durability of material which is absent in regular bags.
2. Leak proof protection which protect bag materials from contamination from external factors.
3. High testing standards as per united nation rules.
4. Tagging and labels as per requirements
We Brain chamber Polysacks are manufacturer and exporters of UN certified bulk bags in various sizes as per requirements of customers. These UN bulk bags are use in plenty of quantity as those bags under goes various testing procedures and certified which can work in any environmental conditions. It can make utilize this bags to transport bulk material through rails, ships or by roads. As it is UN (united nation) certified bags which make ensure safety of products and prevent from any injury or damage.
Our quality control team strictly make sure quality of bags and passes each and every bags from vigorous testing mention by UN i.e vibration testing, stack testing and top lifting, drop test and tear test to get certified for handling dangerous goods.
For more Information click on : http://jumbobagsexporters.com/jumbo-bag-products.html
or Mail your Requirement on - enquiry@brainchamber.net