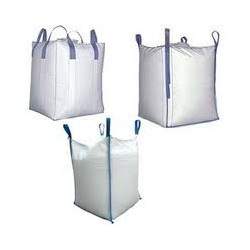 Transporting bulk materials in powder form or liquid form is serious issues for industries. Loading and unloading of materials should be done securely in transportation. Here entire solution is provided for your bulk packaging by Brain Chamber Polysacks by FIBC. Flexible Intermediate Bulk Container commonly known as FIBC or Jumbo Bag is perfect economical solution for bulk packaging for transportation of goods in powder or liquid form.
Custom Solution for Bulk Packaging/Transportation
FIBC Bags are made from polypropylene woven fabric, which is strong enough to store and carry materials. Wight carrying capacity of FIBC is from 500 kg to 2000 kg as per packaging. Depending upon your requirements we provide custom big bags in the form UN FIBC, Antistatic FIBC, Conductive FIBC, Container liners bags.
Brain Chamber Polysacks are an FIBC manufacturers which makes custom FIBC as per requirement and has keeps quality and hygiene at top priority with timely delivery. We guarantee for convenient and fast loading/unloading of goods in bulk quantity. Our UN FIBC means safeguard of people and environment by handling hazardous goods approved by united nation. Our antistatic FIBC helps to prevents the occurrence of incident like flammable sparks while handling large volume materials. Our conductive FIBC is made with interwoven polypropylene fabric. Our food grade FIBC is useful for transporting and storing food grade materials in safe manner without contamination.
Common FIBC Types

1. Jumbo Bags (Type A)
2. Antistatic Jumbo Bag (Type B)
3.Conductive Jumbo Bag (Type C)
4. UN FIBC (United Nation Certified)
5.Baffle Bag
6. Single Loop or Double Loop Bag
7. Container Liner
Usage

1. Chemicals
2. Fertilizers
3. Food Products
4. Mining
5. Construction
6. Grains
Feel free to contact Brain Chamber Polysacks to get very reasonable quote of high quality jumbo bag.
Tags : FIBC, FIBC Bags
For more Information click on : http://jumbobagsexporters.com/jumbo-bag-products.html
or Mail your Requirement on - enquiry@brainchamber.net