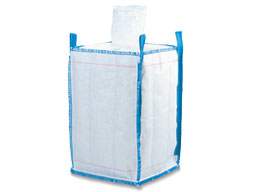 An industrialist or construction builder or farmer knows how much he want to make stock of his product or want to sell his product. Depending upon his product he should made requirement of custom jumbo bags for storing his product in bulk quantity or for safe transporting. For storing bulk quantity of material you should determine cubic capacity of big bag in its cubic measurement. We can help you to determine the capacity holding of bag for your product.
While determining cubic capacity of jumbo bag it is important to take three dimension of bag i.e Height, Width and Length. All these three dimension will shows you volume of area which gives bulk storage capability of bag.
Here BCP will help you in simple way by calculating volume of bulk bag by multiplying width *length*height. It will give you exact volume of bag. Now you can determine how much your product will go or store through these bag by same calculation. Let's go some technical measurement of bags, you can convert the bags cubic inches to cubic feet's because there are 1728 cubic inches in foot and convert cubic feet to cubic yard as there are 27 cubic in yard. This will easily provide volume measurement of bags for its load handling and carrying capacity.
We BCP will provide you our jumbo bag volume dimension of product handling which will make you easy to determine how much bags you will require. We will also provide maximum weight handling measurement so you will able to know how much our bags will carry your product load easily without any damage.
Feel free to contact Brain Chamber Polysacks to get very reasonable quote of high quality jumbo bag.
Tags : Big Bag, Big Bag for Packaging
For more Information click on : http://jumbobagsexporters.com/jumbo-bag-products.html
or Mail your Requirement on - enquiry@brainchamber.net